NetApp AltaVault Cloud-Based Appliance

Cloud-Based Appliances for Amazon Web Services and Microsoft Azure

Sorry, this product is no longer available, please contact us for a replacement.
Overview:
Best For
Amazon Web Services
Microsoft Azure
Meet recovery objectives with minimal budget
Businesses that want to have a complete disaster recovery solution traditionally must spend large sums of money, time, and resources to build out, maintain, and secure a secondary site location. Whether this is at an existing site owned by a company or at a colocation facility where space is rented, the cost is significant because the computing and storage resources are always on the premises and must be available 24/7/365. However, not all firms have the resources to invest in secondary or tertiary DR sites.
The need to protect cloud-native workloads
As more and more workloads are migrated to cloud-based infrastructure or are "born in the cloud," the challenge is how to protect them. Most experts agree that if you protect data on site, you must protect it in the cloud as well. Many companies find that it makes the most sense to protect these workloads within the cloud, rather than bring them back on premises and keep copies separated by region, login credentials, or even cloud providers.
AltaVault cloud-based appliances for Amazon Web Services and Microsoft Azure
For organizations without a secondary disaster recovery location or for companies looking for extra protection with a low-cost tertiary site, cloud-based NetApp AltaVault (formerly SteelStore) appliances on Amazon Web Services (AWS) and Microsoft Azure are the key to enabling cloud-based recovery. Using on-premises AltaVault physical or virtual appliances, data is seamlessly and securely backed up to the cloud. If the primary site is unavailable, you can quickly spin up a cloud-based AltaVault appliance in AWS or Azure and recover data in the cloud. Pay only for what you use when you use it with usage-based pay-as-you-go pricing.
If you already have production workloads running in the public cloud, you know that protecting those workloads in the cloud is just as critical as if they were running on premises. Cloud-based AltaVault appliances offer an efficient and secure approach to backing up cloud-based workloads. Using your existing backup software, AltaVault cloud-based appliances deduplicate, encrypt, and rapidly migrate data to long-term, low-cost cloud storage.
How AltaVault Cloud-Based Appliances Work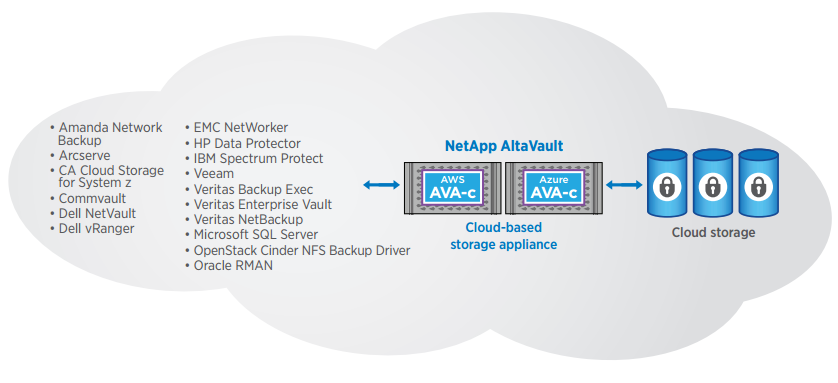 AltaVault can protect cloud-based data and restore backup data in the cloud.
Features:
Unparalleled efficiency
Industry-leading data reduction. AltaVault uses inline deduplication and compression, resulting in up to 30:1 data reduction ratios. This means you store less data in the cloud and can get it there more quickly.
Network and cloud optimization. Built-in WAN optimization and deduplication reduce the amount of data transported to cloud and speed transfer times by up to 4x. AltaVault intelligently throttles data, which saves you money (and time). QoS makes sure that data moves to and from cloud storage at the speed your business requires.
Faster data restoration. AltaVault improves recoverability because 95% of restores occur from local cache. With intelligent prefetching, AltaVault restores data from the cloud within minutes. With AltaVault, customers can restore data up to 32x more quickly than with tape.
Enterprise scale on an open platform
Flexible deployment and scale. Choose the offering that is right for you: physical, virtual, or cloud based in the AWS or Azure clouds. AltaVault appliances start as small as 2TB and scale up to 57PB of protected data in the cloud, making it the most scalable cloud-integrated storage on the market.
Compatibility with existing backup software. Do you love your backup software? So do we. AltaVault is compatible with all leading backup and archival software solutions, including EMC, Symantec, IBM, and Commvault. Don't waste time and effort ripping and replacing your backup software and retraining IT staff.
Cloud choice and agility. Pick a cloud, any cloud, and AltaVault likely supports it. AltaVault supports 95% of all leading cloud storage providers and platforms on the market today. Cloud providers rise and fall, and you never want your data stuck with a cloud provider. AltaVault cloud agility allows you to free your data.
Ironclad security and compliance
Is encrypted and compliant. Data is encrypted and secure at all times—in flight and at rest—using AES 256-bit encryption, compliant with FIPS 140-2 Level 1 (validation coming soon) and industry-standard TLS encryption.1 Encryption keys can be managed locally with KMIP and never leave your data center.
Controls your data. Confirm that only qualified employees can access data in AltaVault, with role-based access controls and integration with Terminal Access Controller Access Control System (TACACS) and Remote Authentication Dial In User Service (RADIUS). Use the management access control list to secure the appliance by exposing only the necessary protocols, ports, and networks.
Shrinks recovery time and data loss. Reduce RTO by retrieving data more quickly in a disaster by accessing locally cached backups on the AltaVault appliance. Reduce RPO by immediately getting data off site so recovery points are as recent as your latest backup, rather than the last time tapes were shipped off site.
Prepares for disasters. Recover on-premises workloads in the cloud during DR tests or declarations with the AltaVault cloud-based appliance in AWS and Azure.
Easy to deploy and manage
Deploy more quickly. Get up and running with AltaVault in less than 30 minutes. In three simple steps, you can start sending data to the cloud.
Manage smarter. Reduce tape management overhead and manual tasks that are error-prone and time consuming, allowing you to allocate valuable employee resources to other projects. Remote monitoring and management capabilities from a GUI-driven management dashboard give administrators complete control from across the data center or across the world.
Take advantage of world-class services and support. Professional services, from NetApp and partners, can implement AltaVault in heterogeneous or NetApp environments to deliver an optimized solution that meets your specific needs. Support services help you achieve continuous operations, operational excellence, and improved cost efficiency.
Specifications:
AltaVault Cloud-Based Appliance Model Specifications
Cloud Appliances4

Backup Mode

Cold Storage Mode

Attributes
AVA-c4
AVA-c8
AVA-c16
AVA-c4
AVA-c8
AVA-c16
Performance
Backup Throughput (Maximum)
345GB/hr
400GB/hr
3TB/hr
175 GB/hr
225 GB/hr
350 GB/hr
Cloud
Cloud Storage Providers Supported1
Multiple; visit the solution connection for more details
Cloud Capacity Supported2
20TB
40TB
80TB
N/A
N/A
N/A
Logical Cloud Capacity3
600TB
1.2PB
2.4PB
1.6PB
3.2PB
6.4PB
Local Disk Storage
Usable Local Capacity (Maximum)
4TB
8TB
16TB
4TB
8TB
16TB
RAID Protection
RAID 6 recommended for datastore storage
Network
Storage Networking Supported
CIFS/SMB, NFS
Server
Supported Hypervisors
Not applicable
Third-Party Application
Backup/Archive Software Supported
Multiple; visit the solution connection for more details
1 For details on technical specifications, please contact your nearest NetApp/channel sales associate.
2 5x of appliance usable local capacity; for example, a maximum of 160TB of cloud capacity can be supported by 32TB of usable local capacity.
3 Backup mode: calculated using 30x deduplication. Cold Storage mode: assumes 50% compression and 100MB file size.
4 All AltaVault cloud appliances are available on the Amazon Marketplace as AMIs. Only AVA-c4 is available on Microsoft Azure as AVM.
Compare:
Compare NetApp AltaVault models to find the right cloud-integrated backup and archival solution for your organization.
Features
Physical Appliances
Virtual Appliances
Cloud-Based Appliances
Available Models
AVA400 
AVA800
AVA-v2 for VMware 
AVA-v8 for VMware 
AVA-v16 for VMware 
AVA-v32 for VMware 
AVA-v2 for Hyper-V 
AVA-v8 for Hyper-V 
AVA-v16 for Hyper-V 
AVA-v32 for Hyper-V 
AVA-v2 for KVM 
AVA-v8 for KVM 
AVA-v16 for KVM 
AVA-v32 for KVM
AVA-c4 for Azure 
AVA-c4 for AWS 
AVA-c8 for AWS 
AVA-c16 for AWS
Use Cases
AltaVault physical appliances are often deployed in the data center to protect large volumes of data. These data sets typically require the highest levels of performance and scalability available.
AltaVault virtual appliances are an ideal solution for medium-sized businesses that wish to get started with cloud backup, or for enterprises that wish to protect branch offices and remote offices with the same level of protection they enjoy in the data center.
AltaVault cloud-based appliances are designed to offer an efficient and secure approach to backing up cloud-based workloads. Companies without a secondary data center, or those looking for a low-cost tertiary recovery site, also can use them for disaster recovery purposes.
Cache usable capacity
32-384TB
2-32TB
4-16TB
Cache RAW capacity
48-576TB
N/A
N/A
Logical data size in cloud
Up to 57PB in backup mode 
Up to 10PB in cold storage mode
Up to 4.8PB in backup mode 
Up to 10PB in cold storage mode
Up to 2.4PB in backup mode 
Up to 6.4PB in cold storage mode
Maximum Ingress Throughput, Aggregate
Up to 9.2TB/hr
Up to 3TB/hr
Up to 3TB/hr
Form Factor
Starts at 10U appliance
vSphere ESXi, Hyper-V, KVM
AWS or Azure based