NetApp E2700 Hybrid Storage System

Gain Enterprise-Grade Reliability and Support with Cost-Effective Entry-Level Block Storage System


E2712


E2724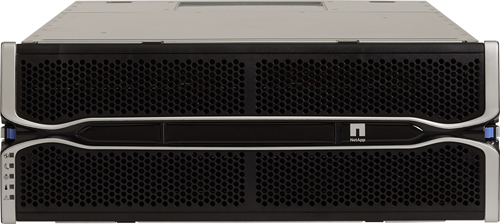 E2760
Sorry, this product is no longer available, please contact us for a replacement.
Overview:
Best For
Backup and Recovery
Big Data
Cloud Services
Microsoft Solutions
NetApp Private Storage for Cloud
OpenStack
Oracle Solutions
SAP and SAP HANA
Virtual Desktop Infrastructure (VDI)
Virtualization
Today, many small and medium-sized businesses and remote and branch offices seek new ways to manage growing data requirements with minimal cost and maintenance. Consistent performance delivery is an imperative. Yet, managing data is increasingly more complex—especially with limited resources, space, and power.
Entry-Level Storage with Enterprise-Grade Features
The NetApp E2700 storage system was designed as an entry-level storage system that can help you meet business requirements with reliable storage when you need it. Payas-you-grow flexibility makes the E2700 the ideal solution for companies of all sizes facing rapid, unpredictable growth.
Unlike other storage systems that add file or virtualization layers in the I/O data path, E2700 systems are purpose-built to optimize performance for mixed workloads. The E2700 delivers high bandwidth and IOPS while minimizing complexity and maintenance, power, and space requirements. The intuitive interface of the E2700 simplifies configuration and maintenance while providing enterprise-level storage capabilities to deliver consistent performance, data integrity, and security. Applicationaware plug-ins for Microsoft, Oracle, VMware, Splunk, and Nagios environments simplify administration and lower storage management costs.
Realize affordable hybrid price and performance with greater than 99.999% availability: NetApp E2700 storage systems.
The affordable NetApp E2700 storage system provides general-purpose, mixed-workload storage for small and midsize organizations and remote or branch offices. Choose from three systems—4U/60, 2U/24, and 2U/12—and three forms of connectivity: FC, iSCSI, or SAS.
The E2700 integrates with VMware, Microsoft Exchange and SQL, Oracle, Splunk, Nagios, Puppet, and Chef applications to minimize ongoing management and maintenance.
Gain best-in-class performance for a wide range of mixed-workload environments, including database, email, streaming video, and disk-to-disk backup/archive.
Reduce cost and complexity of high-throughput data management through a configurable, easy-to-use-and-install architecture.
Attain streamlined high performance with low latency and high bandwidth and IOPS.
Scale capacity just in time to support business growth.
The E2700 uses the robust, easy-to-use SANtricity Storage Manager software, a powerful and intuitive software interface. This enables performance efficiency, dynamic drive rebalancing, RAID management, intelligent cache, and extended data protection—including data replication and disaster recovery.
Key Benefits
Optimized Performance
Leverage the efficient performance design of the E2700 for a wide range of mixed workloads.
Application Integration
Facilitate ongoing management and maintenance. Enable seamless integration into your environment through application-aware plug-ins for VMware, Oracle, and Microsoft and plug-ins and drivers for emerging applications, such as those from Splunk, Nagios, and OpenStack.
Ease of Use and Configuration
Easily install and administer E-Series storage systems using the powerful NetApp® SANtricity® Storage Manager software, which provides an intuitive interface for administration.