Enterprise Application Solutions


Respond faster to customers. Unlock the value of your data. Deliver a consistent application experience to any user, from any device, anytime. Find out how NetApp enterprise-grade all-flash storage solutions, leveraging a data fabric, accelerate your enterprise applications—so you can move with ease from flash to disk to cloud.

Database, ERP, and CRM
Reduce data management headaches while maximizing performance, availability, and reliability of your business-critical database, decision support, and enterprise planning applications.
Oracle
SAP
Microsoft SQL Server

Collaboration and Communication
Improve the availability and agility of your content, document management, and e-mail messaging environments. Reduce overall costs through better application integration.
Microsoft SharePoint Server
Microsoft Exchange Server
Oracle:
Key Point
Deliver high IOPS and submillisecond latency for database performance.
Enable public or private cloud environments.
Enable zero planned downtime by using clustered Data ONTAP software.
Clone multiple databases with minimal impact in performance and storage.
Simplify backup, recovery, DR, and provisioning.
NetApp solutions for Oracle provide increased performance and data agility in the cloud, and eliminate planned downtime.
NetApp solutions for Oracle Database deliver consistent high performance, availability, and data protection. NetApp Oracle solutions reduce IT and business costs and complexity, while helping Oracle Database applications to perform better—both in the cloud and in the data center.
90% of all database performance issues can be traced to the storage tier. Reduce latency during peak loads, and boost Oracle Database performance where you need it most, by using NetApp All Flash FAS or EF-Series all-flash storage systems.
NetApp clustered Data ONTAP storage operating system's data migration software enables dynamic workload balancing. Optimize I/O without affecting users or applications, and eliminate planned downtime. Clustered Data ONTAP nondisruptive storage operations and scalability create an ideal Oracle RAC platform. Our Snapshot technology backs up and restores data in a fraction of the time and space of traditional methods, for faster application development and increased business agility.
NetApp storage scales Oracle performance without limits, so you can meet your growing database application needs.
The Challenge
Oracle databases drive business-critical applications and are key to the success of countless data-driven enterprises like yours. Your service goals include a responsive, uninterrupted experience for employees, customers, and partners accessing Oracle data. You need an infrastructure for Oracle that can deliver consistently high levels of performance, data availability, and data protection while meeting your operational cost guidelines.
Your database team needs a storage infrastructure that's responsive enough to facilitate, not inhibit database performance. In addition, the explosive growth of database instances and the critical data they house creates a variety of management challenges, from provisioning and cloning to backup and disaster recovery. Without automated management tools that integrate databases with underlying storage, DBAs can't respond to rapidly changing business needs.
Your storage teams are under pressure to provide an infrastructure that exceeds user expectations while driving out complexity and capital and operating inefficiencies. The infrastructure must remain up and running, meet performance and availability SLAs, and provide ample resources to accommodate rapidly expanding database environments without wasted capacity.
Together, your IT teams need a highly efficient, integrated solution to eliminate these issues and deliver superior IT services for Oracle databases.
The Solution
Address your biggest database challenges with an agile data infrastructure. The NetApp solution for Oracle database delivers industry leading storage, unprecedented scalability, continuous data access, and automated data management for immediate response to business opportunities.
NetApp has worked with Oracle for years, developing innovative, integrated solutions that reduce IT and business costs and complexity. NetApp leads the way with data storage offering compelling solutions for Oracle database.
Infinite scalability:
Scalable performance flexibility to match changing database needs with NetApp Data ONTAP 8
Assured nonstop performance and availability to keep production databases up and running with clustered Data ONTAP 8
Optimized database transactions with synergy between Oracle partitions and NetApp Flash Cache™
Immortal operations:
Eliminate planned downtime with transparent, nondisruptive mobility of applications and data
Avoid unnecessary business database outages during storage maintenance operations by using clustered Data ONTAP with DataMotion™
Match the scalability and availability characteristics of Oracle RAC at the storage layers
Intelligent management:
Provide higher data availability with simple, reliable, and much faster disk-based backup and recovery for databases
Experience efficient, affordable, and proven DR and business continuity solution
Double DBA productivity with superior integrated Oracle recovery capabilities
Performance Agility
Storage is the most important performance factor in database environments. 90% of database performance issues in both physical and virtual infrastructures can be traced to the storage tier. Your database storage needs to deliver sustained performance for multiple Oracle instances and quickly optimize I/O as peak workloads change to avoid business impact.
NetApp storage scales Oracle performance nondisruptively, without limits. The NetApp FAS series with Data ONTAP 8 offers a variety of innovations designed for multiprotocol, high-performance databases. For example, NetApp collaborated with Oracle to design a Direct NFS (DNFS) connectivity solution for customers using the NFS protocol. DNFS provides the same performance and latency characteristics of FC/FCoE for Oracle databases. As a result, customers gain the flexibility to select or change their network connectivity model as their Oracle database infrastructure evolves.
NetApp Data ONTAP with DataMotion enables you to dynamically balance workloads to maintain or enhance performance to meet new database service levels. Ineffective load balancing often results in storage hotspots associated with overloaded volumes, which can dramatically affect database performance. Clustered Data ONTAP with DataMotion solves this issue effortlessly by transparently moving the affected volumes to different storage aggregates or nodes without affecting users or applications.
Low storage latency is critical for highperformance OLTP workloads. NetApp storage can reduce latency by a factor of 10 or more. You can also increase I/O throughput by 78% with NetApp Flash Cache, a deduplication-aware read cache for hot blocks of Oracle transaction data. Flash Cache provides a virtual storage tier without the additional cost and complexity of an additional physical storage tier. NetApp Flash Pool technology further enhances performance by enabling SSDs and HDDs to be pooled and automatically optimizes I/O by moving data across multiple tiers. Finally, to make sure individual databases get appropriate QoS from storage resources in multi-tenancy environments, NetApp provides FlexShare capability to make sure Oracle database performance is not compromised by other storage activities.
The online nondisruptive capability of Data ONTAP 8 makes it a smart choice for a scalable storage platform for Oracle infrastructure.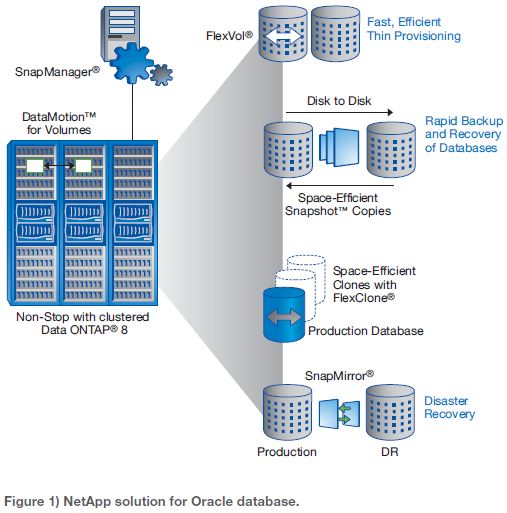 NetApp solution for Oracle database.
Eliminate Downtime with Nondisruptive Operations
NetApp clustered Data ONTAP 8 enables nondisruptive storage operations and scalability, providing an ideal 24/7 storage platform for your Oracle RAC database. The addition of transparent volume migration between clustered storage systems results in zero impact or downtime to running databases, eliminating a potential weak link in your database infrastructure.
In addition to the nondisruptive operations of Data ONTAP 8, NetApp OnCommand® Insight Balance provides key performance indicators (KPIs), early warning signs of storage infrastructure contention, and guidance for resolution of issues to assist in maintaining availability SLAs.
Backup, Recovery, and DR Simplicity
The time and expense related to backup and recovery in Oracle environments are growing. The challenge to DBAs is also increasing with the growing size and complexity of databases that must be managed and recovered more quickly. To remain competitive, DBAs and storage administrators must be able to complete backups and restores more quickly and reliably.
DBAs must minimize the chance of data loss and increase the availability of Oracle systems. The NetApp integrated data protection (IDP) solution, specifically designed for Oracle, can reduce DBA time by 50%. NetApp empowers storage teams and DBAs with access to storage technologies and protection services powered by Snapshot™ technology, which enables fast, frequent backups and restores of large databases in a fraction of the time and space of traditional methods. NetApp IDP has become the fastest, easiest, and most efficient method to back up, recover, clone, and provide disaster recovery of Oracle databases.
Achieve Your Goals with Industry-Leading Efficiency
NetApp enables maximum data storage and operational efficiencies while minimizing complexity and resources to drive down costs. NetApp efficiency technologies are driven by innovation, including Snapshot technology, FlexClone, SnapMirror, SnapVault, Data ONTAP compression, FlexVol, RAID-DP, and Flash Cache.
An internal study showed how Flash Cache, which drives down the number of drives required for many workloads, achieved superior Oracle performance with 50% more available capacity, 66% less power, and 59% less rack space, driving down the overall TCO of NetApp storage.
In addition to storage efficiency, NetApp's core technologies make Oracle data management simple and time efficient. You can enable efficient thin provisioning and reallocation of Oracle storage with NetApp FlexVol. Leverage SnapManager for Oracle and FlexClone to simplify and automate the database cloning and refresh process with practically no extra storage needed, no time-consuming approval loops, and in 97% less time. Customers such as Blackboard have reduced cloning process time for development and test environments from 37 hours down to just 1 hour.
The ability to do so much more with so much less physical storage is a strong competitive advantage of which NetApp customers are taking advantage to meet their efficiency goals with greater flexibility. Why manage complexity when you can eliminate it with NetApp?
Partner for Success
NetApp Storage Design and Implementation Service for Oracle enables you to quickly and reliably achieve production readiness for your NetApp Oracle environment:
Streamline your deployment for clustered Data ONTAP
Implement quickly by using proven methodologies and best practices
Lower risk with verification testing, documentation and postimplementation review
Free up your internal resources so they can focus on other strategic projects
Database Solutions
The NetApp Solution for Oracle Database lets you deploy and manage databases faster and ensures predictable performance.
The NetApp Solution for Oracle Database helps you provide a responsive, uninterrupted experience for users of applications running on Oracle Database in traditional deployments, in clustered environments, or in the cloud. We provide efficient, integrated solutions that facilitate database performance and enable you to respond to changing business needs.
NetApp Solution for Oracle Database 
A collection of products, technologies, reference architectures, and services that enables you to accelerate deployments, performance, and manageability to support applications that run on Oracle Database.
Oracle Database 12c Integration 
Technologies, reference architectures, and services that speed deployment, performance, and manageability for Oracle Database applications.
FlexPod Solutions
Use FlexPod Solutions for Oracle environments to deliver fast database application performance in less time.
Leverage FlexPod Solutions for Oracle environments to deliver improved database application performance. We test and validate the infrastructure and supporting software components in our FlexPod solutions for Oracle, so that you can deploy your database applications with greater confidence, and in less time than when they are based on traditional infrastructure implementations.
For Oracle Databases that require the highest transaction rates with the lowest latency, you can achieve more than two million IOPS at sub-millisecond latency by using FlexPod Select for High Performance Oracle RAC. And because FlexPod implementations are designed with balanced configuration across the IT stack, you can scale your supporting infrastructure with ease as your application workload changes.
We offer the following FlexPod Solutions for Oracle workloads:
FlexPod Select for High Performance Oracle RAC
FlexPod Datacenter with Oracle RAC on Oracle Linux
Managebility
NetApp offers integration and manageability products to make your Oracle environment faster and more reliable.
NetApp Oracle Manageability Solutions let you simplify, standardize, automate and improve data protection without diminishing performance.
Data Protection 
Achieve higher data availability and affordable disaster recovery. Protect all of your Oracle applications.
SnapManager for Oracle
Snap Creator Framework
SnapProtect
NetApp Media Management Library for Oracle RMAN
Development and Test 
Create space-efficient copies of your Oracle databases in minutes. Develop and deploy new applications faster.
SnapManager for Oracle
NetApp Cloning Plug-in for Oracle Multitenant Database
NetApp Media Management Library for Oracle RMAN
Monitoring 
Consolidate information and help pinpoint storage related database problems, increase operational efficiencies.
NetApp FAS Plug-in for Oracle Enterprise Manager
NetApp SANtricity Plug-in for Oracle Enterprise Manager
NetApp Plugin for Oracle VM
---