NetApp FlexArray Storage Virtualization Software

The industry's only unified SAN and NAS storage virtualization platform
Overview:
Key Point
Virtualize existing arrays to create software-defined storage.
Simplify operations and eliminate sources of downtime.
Streamline migration with foreign LUN import.
Manage data across private, public, and hybrid clouds.
Reduce storage needs by 35%, get full ROI in nine months.
Increase the flexibility and ROI of your existing arrays with the industry's only unified storage virtualization platform.
NetApp FlexArray software virtualizes your existing EMC, HP, Hitachi, and NetApp E-Series arrays to streamline operations and achieve the competitive advantage your enterprise needs.
Unify and simplify IT operations. Expand support to both SAN and NAS workloads. A software-defined storage infrastructure simplifies and accelerates provisioning and data management.
Deliver proven efficiency and ROI. Reduce capacity requirements on existing arrays by more than 35%. Increase usable storage capacity for a greater return on assets. Transform your existing arrays to create storage that spans private, public, and hybrid clouds.
Provide superior storage functionality and performance. Eliminate planned downtime and perform maintenance tasks during business hours. Deliver continuous data availability for critical applications.
FlexArray runs on the FAS8020, FAS8040, FAS8060, and FAS8080 EX systems. Purchase and activate FlexArray at any time.
Expanding IT capabilities while reducing complexity
You have made substantial investments in your existing infrastructure, but IT requirements are changing. You're being asked to increase uptime, improve application performance, and consider new cloud strategies. You would like to satisfy these operational requirements with the storage you already own, but, unfortunately, many platforms cannot extend to meet new IT requirements. Adding new data storage architectures to your environment is one way to solve this challenge. But that creates silos of storage that increase complexity, and retiring existing storage assets can be costly.
NetApp FlexArray Virtualization Software
Simplify your IT operations and deliver more value from existing investments with the only unified storage virtualization solution. NetApp FlexArray virtualization software enables FAS8000 systems to virtualize existing EMC, HP, Hitachi, and NetApp E-Series arrays. This creates a single storage management architecture that overcomes the limitations of existing arrays, expands the capabilities of your IT infrastructure, and delivers the benefits of software-defined storage.
FlexArray software helps meet your changing business requirements through increased uptime with nondisruptive operations and continuous data availability, superior cost control with proven efficiency technologies, and improved performance with flash acceleration—all with the advantages of the NetApp Data ONTAP operating system. Clustered Data ONTAP provides the data control you need in a single platform that spans private, public, and hybrid clouds.
Key Benefits
Do More with Your Existing Storage
Deliver advanced data management and softwaredefined storage capabilities.
Unify SAN and NAS
Serve a broader range of SAN and NAS workloads without complex add-on components.
Eliminate Downtime
Perform maintenance and updates with no disruption; provide continuous data availability for mission-critical applications.
Enable Cloud Deployments
Manage and maintain control of your data across private, public, and hybrid clouds.
Simplify IT Operations
Move data easily from older storage and standardize storage management.
Deliver Proven Storage Efficiency
Reduce storage needs by 35% or more and get full ROI in nine months—guaranteed.*
How NetApp FlexArray Works
FlexArray connects your existing storage arrays to FAS8000 controllers by using a Fibre Channel SAN. Array LUNs are provisioned to the FAS8000 and collected into a storage pool from which NetApp volumes are created and shared out to SAN hosts and NAS clients. Foreign LUN Import simplifies the process of transitioning existing data to the FlexArray environment.
The new volumes, managed by the FAS8000, benefit from the full suite of NetApp capabilities, such as Integrated Data Protection and storage efficiency. You can provision the entire array to the FAS8000 or allow some hosts to continue to access the array directly.
FlexArray gives you the flexibility to add new capacity either to existing arrays or to NetApp FAS disk shelves (SSDs and HDDs). When you're ready to retire older storage arrays, you can simply move data to disk shelves on the FAS8000 with no user or application disruptions.
FAS8000 storage systems are engineered to deliver high performance and quickly adapt to evolving IT models. Powered by Data ONTAP and optimized for scale-out, the FAS8000 series has the flexibility to keep up with changing business needs while delivering on core IT requirements for uptime, scalability, and cost efficiency. Plus, FAS8000 systems with FlexArray can be deployed in FlexPod converged infrastructure solutions, integrating your existing arrays with best-in-class NetApp and Cisco components in a validated enterprise-class IT platform.
FlexArray on FAS8000 delivers virtualization capabilities similar to those of the NetApp V-Series open storage controller that customers have been successfully deploying for over 10 years. Rather than requiring a separate hardware platform, FlexArray software has the advantage of being installable at any time, either at initial system purchase or after a FAS8000 has been deployed.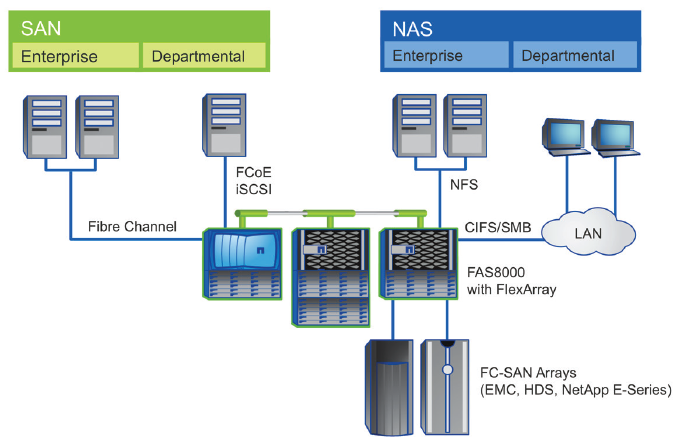 How FlexArray on FAS8000 works.
Get More Business Value with Services
Whether you are planning your nextgeneration environment, need specialized know-how for a major deployment, or want to get the most from your current storage, NetApp and our certified partners can help.
We collaborate with you to enhance your IT capabilities through a full portfolio of services that covers your IT lifecycle with:
Strategy services—to align IT with your business goals
Design services—to architect your best storage environment
Deploy and transition services— to implement validated architectures and prepare your storage environment
Operations services—to deliver continuous operations while driving operational excellence and efficiency
In addition, NetApp provides in-depth knowledge transfer and education services that give you access to our global technical resources and intellectual property.
---