NetApp ONTAP Select

Software-Defined data Storage Services for the Hybrid Cloud
NetApp Products
NetApp Software
NetApp ONTAP Select
#ontap-select
Get a Quote!
Click here to jump to more pricing!
Overview:
Key Point
Deploy software-defined storage built on leading NetApp ONTAP software.
Spin up storage resources with agility and granularity on commodity hardware.
Protect data with integrated local Snapshot copies, remote backup, and DR.
Accelerate application development/testing with space-efficient cloning.
Reduce complexity and overhead with common data management.
Accelerate enterprise data storage deployment on premises with cloud-like agility and increased flexibility.
NetApp ONTAP Select is a software-defined scalable storage software architecture deployed on your choice of commodity servers and hypervisors. Designed to complement NetApp All Flash FAS (AFF), FAS, and ONTAP Cloud storage solutions, ONTAP Select lets you spin up storage resources with cloud-like agility in the comfort of your own datacenter.
ONTAP Select converts the server's internal disk drives into a flexible storage architecture—delivering many of the same benefits as a dedicated NetApp storage system.
Take advantage of efficient data reduction technologies, including embedded data deduplication and compression, along with space-efficient FlexClone (PDF) and Snapshot features. Built-in data protection, using our SnapVault and SnapMirror software, provides backup and recovery and disaster recovery (DR) to any ONTAP based storage system—across the hybrid cloud.
NetApp SnapRestore software, available separately, uses local Snapshot copies to recover entire file systems or data volumes in seconds, regardless of capacity or number of files.
Leverage your NetApp investment using ONTAP Select to bring all your operations into an integrated data storage architecture for seamless interoperability between systems.
Your Data Center Is Built on NetApp
Architect your IT environment: ONTAP data management is there
In order to address the need for greater IT agility, many organizations are looking to the cloud. Cloud storage is easy to spin up quickly and in small increments. However, putting your data in the cloud isn't for everyone. Retention policies may not permit data to be kept off site, and although it is easy to deploy, the cost to store data in the cloud can escalate quickly over time. And retrieving or repatriating data can be expensive in both time and money.
NetApp ONTAP Select offers robust enterprise storage services deployed on your choice of commodity hardware and hypervisor from the comfort of your own data center. It combines the best of the cloud in terms of agility and granular capacity scaling, with the flexibility, resilience, and locality of on-premises storage.
Deploy NetApp ONTAP Your Way
Convert your server-side direct-attached storage (DAS) into enterprise storage
ONTAP Select converts a server's internal disk drives into an agile, flexible storage platform with many of the same benefits as dedicated storage systems based on NetApp ONTAP. You can deploy ONTAP Select on new servers or your existing server infrastructure for added flexibility. ONTAP Select is simple to manage and leverages the same management software as all solutions based on ONTAP, so you can reduce operational overhead and training requirements.
Increase Productivity Without Increasing Cost
Cloudlike agility from the comfort of your data center
Sometimes, you don't have time to order and deploy new hardware in order to capitalize on a new idea or begin a new proof of concept. Because ONTAP Select is a software solution, you can purchase and deploy ONTAP Select in less than a day to get new projects up and running quickly. You can start with a few terabytes and then dynamically add capacity in increments as small as 1TB as your project grows. ONTAP Select can be easily integrated into cloud management frameworks such as OpenStack and vSphere to help you accelerate deployment of new projects such as file services, home directories, software development environments, and application testing.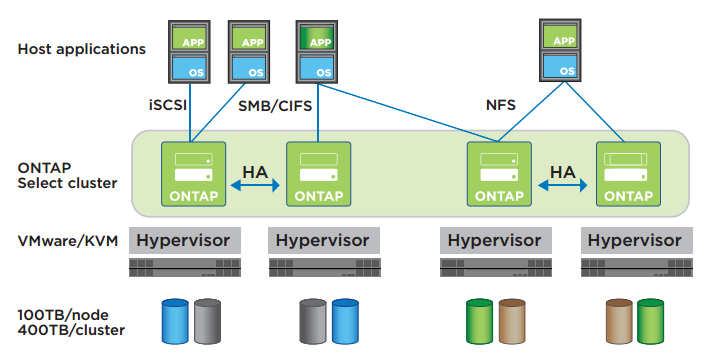 ONTAP Select delivers enterprise-class storage services with cloudlike agility on your choice of commodity hardware. A four-node configuration is highlighted here.
For some projects, you may want to bring up an environment quickly to prove out an idea, but later move the project to a dedicated storage platform for production deployment or perhaps make it more accessible in the cloud as part of a development workflow. NetApp SnapMirror® software lets you easily move data between ONTAP storage across the hybrid cloud so you can place your data where you want it, quickly and easily.
Enterprise Data Protection and Efficiency
NetApp Snapshot software protection
ONTAP Select is built on the leading ONTAP storage software to deliver enterprise storage services efficiently with a highly available, shared-nothing scale-out architecture. You can deploy a solution with one node or scale to four nodes with up to 400TB of raw capacity, for NFS, SMB/CIFS, and iSCSI connected storage. You can leverage native deduplication and compression to lower storage costs by increasing your effective capacity. The scale-out architecture enables not only high availability, but also nondisruptive data mobility for load balancing or to service hardware.
ONTAP Select includes robust integrated data protection features, including Snapshot®, SnapMirror, and SnapVault® software, to quickly and efficiently copy and replicate your valuable data to other ONTAP storage, whether on premises, at a remote site, or in the cloud. If you need to recover your data quickly, SnapRestore® software can use local Snapshot copies to recover entire file systems or data volumes in seconds, regardless of capacity or number of files.
---
NetApp Products
NetApp Software
NetApp ONTAP Select
#ontap-select
Get a Quote!