NetApp StorageGRID Webscale SG5600 Appliances

Enterprise-grade object storage in an easy-to-deploy appliance


SG5612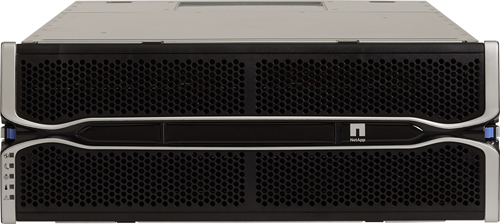 SG5660
NetApp Products
NetApp StorageGRID Webscale SG5600 Appliances

NetApp StorageGRID Webscale SG5612 Appliance

NetApp StorageGRID Webscale SG5660 Appliance
Click here to jump to more pricing!
Overview:
Best For
Amazon Web Services
Backup and Recovery
Microsoft Azure
IBM SoftLayer
Object Storage
OpenStack
Building an object storage solution requires IT staff to design, configure, deploy, and support massive amounts of compute and storage. Creating an optimal solution while balancing cost, performance, and resiliency is a daunting task.
The NetApp SG5600 combines storage and compute into a single chassis to create a building block for enterprise-grade object storage. Preconfigured and fully optimized, the appliance enables administrators to rapidly deploy storage nodes for StorageGRID Webscale:
Customers can choose the 4U 60-drive or 2U 12-drive appliance. The chassis contains both compute and storage in a single, easy-to-deploy and serviceable form factor. Increased density saves data center rack space and energy, driving further savings.
StorageGRID Webscale software runs on internal compute for maximum efficiency and performance.
Guided by active metadata-driven policies, StorageGRID Webscale provides availability, durability, and geo-distribution of objects using advanced N-way replication and distributed coding techniques.
E-Series SANtricity provides node-level erasure coding with Dynamic Disk Pools (DDP), allowing the use of large-capacity hard drives while delivering consistent and optimal performance.
StorageGRID Webscale Appliance offers high-density, cost-efficient object storage in an easy-to-deploy appliance.
Deploy and manage enterprise-grade object storage with ease. The NetApp SG5600 StorageGRID Webscale appliance combines best-in-class E-Series hardware with StorageGRID Webscale object storage software to create a solution for your most demanding workloads.
Simple to deploy and manage
The StorageGRID Webscale appliance is a ready-to-deploy, modular building block that you can use to create new installations or expand existing ones. It's available in two form factors: the SG5660 4RU 60-drive unit and the SG5612 2RU 12-drive unit. Both combine compute and storage in a single, easy-to-deploy, easy-to-service product.
Proven
StorageGRID is a 10th-generation object store with a track record of production deployments in the most demanding industries. The installed base of nearly one million units is a testament to E-Series product reliability.
Cost-efficient, high-density
StorageGRID Webscale software runs on internal compute for maximum efficiency.
Building an object storage architecture can be daunting. Build yours on a rock-solid foundation: the NetApp SG5600 StorageGRID Webscale appliance.
Use StorageGRID Webscale solutions for object storage on premises and in the cloud—faster, easier, and with less risk.
Liberate your unstructured data with NetApp StorageGRID Webscale object storage. Create the unstructured data storage environment that's best for your business—anywhere, anytime.
By using StorageGRID Webscale object storage, you can:
Manage explosive growth in unstructured data, including petabytes of data created by multiple applications and devices and from globally distributed locations.
Provide end users with 24/7 access from any location and device.
Enable IT to ensure the integrity and security of the data.
Meet business and compliance requirements mandating that data will outlive the underlying storage infrastructure—in some cases by many generations.
Store unstructured data while meeting storage requirements for durability, availability, and performance.
Contain costs.

Rely on a Proven Solution
When setting out to create an object storage architecture, customers understand they are designing a solution for massive scale and long-term retention. With the proven track record of StorageGRID Webscale software and NetApp E-Series storage, customers can be confident they are building on a rock solid foundation.
The SG5600 combines best-in-class software and hardware into a purpose-built appliance. StorageGRID Webscale is a 10th-generation object store with a track record of production deployments in the most demanding workloads. The E-Series installed base of nearly one million units deployed is a testament to the performance and reliability of the E-Series product line.
Get Flexibility and Resilience
StorageGRID Webscale nodes, whether running on the SG5600 appliance or as virtual machines (VMs), are nodes within a resilient grid. Customers have the flexibility to deploy VM-based storage nodes with full interoperability with the SG5600 appliance. The choice of 2U and 4U models enables customer to further optimize for compute and storage density for varying workloads. Nodes can be added to increase capacity and replaced for maintenance or upgrade without service interruption.
Optimize Data Protection and Efficiency
Building object storage on the strength of E-Series DDP erasure coding provides data protection at the node level. Leveraging this with the geo-distributed coding across nodes and sites provides for geo-protection, optimal efficiency, and data durability. With hierarchical erasure coding, customers can create policy-driven data protection with multiple levels of granularity, choosing a combination of full copies and/or erasure-coded copies to meet SLAs while driving significant cost savings.
With disk failure handled by DDP, system performance is unaffected, and the need to do cross-site repair of objects is greatly reduced, providing consistent performance, while continuing to deliver outstanding availability and reliability.
Reduce Complexity
The SG5600 reduces complexity of balancing compute and storage resources by providing a finely tuned and preconfigured unit. Whether deploying a new StorageGRID Webscale environment or expanding an existing one, customers simply rack and cable the appliance and add it to the grid using the StorageGRID Webscale Installer. Configuration of the appliance is fully automatic.
Combining storage and compute also simplifies support. The SG5600 is backed by the NetApp world-class support and development organization. Advanced features such as AutoSupport™ provide proactive and immediate response to address any issue rapidly.
Increase Cost Savings
The SG5600 is a core building block for enterprise-grade object storage. When StorageGRID Webscale software runs directly on the embedded compute, the need for hypervisor licensing is reduced. Combining storage and compute into a single chassis reduces footprint on the data center floor, resulting in further cost savings.
Features:
Key Features for Object Storage Infrastructure
NetApp SG5600 Provides
Modular architecture

Preconfigured and optimized building block
Ability to rapidly expand by simply adding more appliances
Simple installation and management

Cost efficiency

Space-efficiency: Combine optimized storage and compute into a single chassis
Hierarchical erasure coding
Reduced licensing and management by reducing the need for hypervisors

Consistent performance

StorageGRID Webscale takes full advantage of dedicated compute
Dynamic Disk Pools provide consistent performance and reduce replication traffic due to disk failure

Enterprise-grade reliability

Built on the real-world tested foundation of E-Series
10th-generation object storage

World-class support

Backed by NetApp Global Support
AutoSupport (ASUP) provides proactive support for hardware and software
Key Features for Object Storage
NetApp StorageGRID Webscale Provides
Massive scalability and flexible infrastructure

Massive elastic content store
Multiple geo-distributed sites
Support for multiple storage tiers:

SSD, SAS, SATA, tape
Amazon Simple Storage Service (S3)

Hierarchical erasure coding plus full copies
Deploy on VMs or hardware appliance

Application interfaces
Massively parallel transaction engine with:

Integrated load balancing
Transaction multithread pipelining

Object access:

Protocols: S3, Swift, and CDMI

NAS access:

CIFS and NFS
File object duality

Compression and encryption
Advanced security and encryption capabilities:

Store objects with lossless compression
AES-256 and SHA-256 encryption supported
Mixed-mode AES-256 and SHA-256 support for strong encryption and CPU-efficient integrity protection

Metadata and content awareness
Metadata-based data management:

Content-aware self-healing maintains data protection even during network disruptions
Policies can be modified and applied retroactively to existing objects

Deployment options
Hypervisor support:

Hardware appliance:

Service-level objective and performance monitoring
Comprehensive performance feeds:

Access throughput
Replication throughput
Time to first byte
Time to policies achieved
Support for synthetic transactions
Demonstrate SLAs
Measure transaction round-trip time
Separate WAN, storage, gateway times

Management and monitoring

Centralized installation and expansions
Rolling upgrades without downtime
Comprehensive ad-hoc real-time, rolling-period, and historical-usage query capability
200+ predefined monitoring, usage, and performance reports
Event-based audit messages for performance tracing, usage monitoring, enabling billing, or chargeback
Specifications:
All data in this table applies to the NetApp StorageGRID Webscale SG5600 appliance.
SG5660
SG5612
Raw capacity
4TB drives = 240TB 
6TB drives = 360TB 
8TB drives = 480TB
4TB drives = 48TB 
6TB drives = 72TB 
8TB drives = 96TB
Form factor
4U, 60 drives
2U, 12 drives
Connectivity
10GbE
10GbE
Width
19" (48.26cm)
19" (48.26cm)
Depth
32.5" (82.55cm)
21.75" (55.25cm)
Weight
232lb (105.2kg)
59.52lb (27kg)
Environmental Specifications
SG5660
SG5612
4TB Drives
Typical
Maximum
Typical
Maximum
Amps
4.95
5.9
2.11
2.79
Watts
1077.94
1285.52
460.2
608.58
BTU
3678.08
4386.38
1582.82
2076.56
6TB Drives
Typical
Maximum
Typical
Maximum
Amps
5.04
5.99
2.13
2.81
Watts
1304.79
1097.21
463.88
612.26
BTU
3743.84
4452.13
1582.82
2089.12
8TB Drives
Typical
Maximum
Typical
Maximum
Amps
4.68
5.63
4.12
5.48
Watts
1018.75
1226.33
448.89
597.28
BTU
3476.12
4184.41
1531.68
2038
Views:


SG5612 Front View




SG5612 Rear View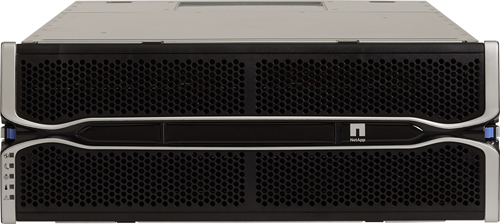 SG5660 Front View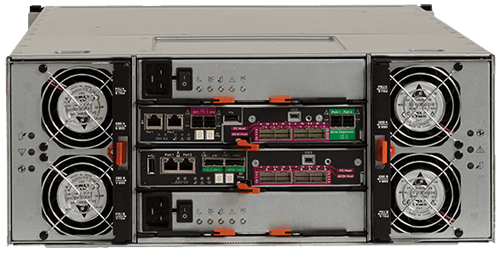 SG5660 Rear View
Rear View of the SG600 Controller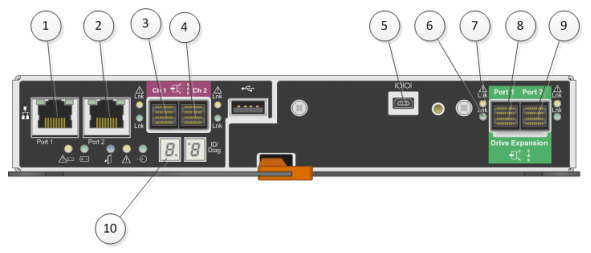 Management Network Port 1
Port to connect to laptop during installation
SAS Interconnect Channel 1
SAS Interconnect Channel 2
Serial connection port
SAS Expansion Link 1 Fault LED
SAS Expansion Link 1 Up LED
Drive Expansion Port 1
Drive Expansion Port 2
Seven-segment codes
Rear View of the E5600SG Controller

Management Network Port 1
Port to connect to laptop during installation
SAS Interconnect Channel 1
SAS Interconnect Channel 2
Data Network Link 1 Fault LED
Data Network Link 1 Active LED
Data Network Link 2 Fault LED
Data Network Link 2 Active LED
Needs attention LED
Seven-segment code display
10-Gb Ethernet Data Network Port 1
10-Gb Ethernet Data Network Port 2
NetApp Products
NetApp StorageGRID Webscale SG5600 Appliances

NetApp StorageGRID Webscale SG5612 Appliance

NetApp StorageGRID Webscale SG5660 Appliance